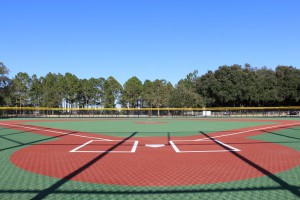 In partnership with the Miracle League, the Lake County Board of County Commissioners is proud to announce the grand opening of the Miracle Field of Lake County at Lake Idamere Park. A ribbon cutting ceremony is planned for Saturday, March 12 at 9 a.m. at 12335 County Road 448, Tavares.
The Miracle Field features a custom-designed, cushioned, synthetic surface that can accommodate wheelchairs and other assistive devices, allowing persons with mental and physical disabilities the opportunity to play baseball or traverse the five-lane track. New additions to the Miracle Field include pavilions, shade structures, spectator bleachers, benches and picnic tables. The field is directly next to Lake Idamere Park's Boundless Playground, a unique play area created to assure that children with special needs are able to play in a safe space.
"This track and baseball field, with its rubberized surface, will enhance the recreational experience for all participants," said Bobby Bonilla, Division Manager of Lake County Parks & Trails. "At the Miracle Field of Lake County, children and adults who use wheelchairs, crutches or walkers, will be able to enjoy playing America's favorite pastime, a dream many with physical challenges are not able to realize at a traditional baseball field."
The Miracle Field will also serve as the home base for all Miracle League of South Lake County games for the spring 2016 season, with the first game kicking off at 10:30 a.m. on March 12, immediately after the ribbon cutting ceremony.
"Being a part of the Miracle League is one of the most rewarding experiences that a person could ever ask for. To see the players happy, playing together, making friends and having fun; that's what it's all about," said Tony Ferris, president of the Miracle League of South Lake County. "To be able to put a smile on their face, and in some small way improve their quality of life, even for only a couple of hours at a time, means more than anything money could ever buy. I am so very proud of Lake County and the individuals who stepped up and made the commitment to making this facility a reality."
The field was made possible with the support of the Lake County Board of County Commissioners and funding through the penny sales tax, a state grant, the Miracle League Fundraising Committee and the Education Foundation of Lake County, at a total cost of $640,000.
"The Boundless Playground, the nearby Lake Hills Schools, and the Miracle Field create a great triangle to get everything rolling for our kids," said Chairman of Lake County Parks, Recreation & Trails Advisory Board Mike Stone, who has been involved with fundraising for the project for nearly nine years. "Folks have been very responsive, and we certainly would like to get the community more involved as we enter into phase 2 of the project, building the concession and restrooms for the field."
The first Miracle League field opened in Conyers, Georgia in April 2000, and today, there are more than 240 such fields across the country serving 200,000 children and adults.
For more information about the Miracle Field of Lake County, contact the Lake County Parks & Trails Division at 352-253-4950, email parksandtrails@lakecountyfl.gov, or visit www.lakecountyfl.gov/parks or www.facebook.com/LakeCountyFLParks.