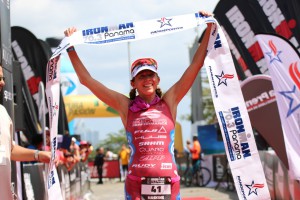 Clermont triathlete Sarah Haskins took home the gold during the recent IRONMAN 70.3 Pan American Pro Championship in Panama, a challenging race among professional athletes along a breathtaking path which included a fast swim, unique transitions and a flat bike course which showcased scenic Central America.
"This was my first time to Panama City and I loved the atmosphere and vibe of the city," said Haskins. "It was pretty special to swim in the famous Panama Canal and see some of the historic parts of the 'Old City.'"
Haskins, a member of the 2008 Beijing Olympic Team, has 41 professional wins under her belt. A native of St. Louis, Missouri, she met and married Nathan Kortuem, who is now her coach and training partner. While the pair have spent many years traveling the world, the couple chose to make Clermont their home in 2011, after attending training camp in South Lake.
"My husband and I loved the area and equally loved the ease of training here," said Haskins. "I could swim, ride and run right out of my back door. Also, most of the country is unable to train outdoors in the winter months due to ice, snow and cold weather. We love that we can train in Clermont year-round and swim at the National Training Center."
Haskins competed in her first triathlon in St. Louis in 2003 upon graduation from the University of Tulsa and became a professional triathlete less than a year later. While in college, she competed in cross-country and track. She has a degree in Elementary Education and a minor in Mathematics.
She offers this advice for up and coming athletes.
"First and foremost; have fun with the sport," she said. "Every race is a unique opportunity to learn something about yourself as a person and an athlete."
To learn more about why Lake County is the ideal location for sporting events and training, visit www.SportsInLakeFL.com or www.facebook.com/sportsinlakefl/, or contact the Lake County Economic Development & Tourism team at 352-742-3918.