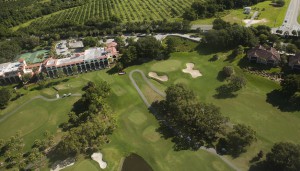 Two Lake County golf courses have been awarded top honors on Golf Advisor's "Best of Lists" based on several hundred thousand reviews by golfers, for golfers.
The 99-year-old El Campeón Golf Course at Mission Inn Resort & Club in Howey-in-the-Hills has been ranked the second best course in the nation and the best in Florida for 2015, while the Bella Collina Golf Club in Montverde was ranked number five of the top 25 U.S. courses for off-course amenities in 2015.
"Our local courses offer scenic views of the 'Real Florida,' challenging elevation changes and top-notch amenities unparalleled elsewhere in the state," said Robert Chandler, Lake County Economic Growth Department Director. "These honors confirm that Lake County remains a premier destination for golf enthusiasts, whether on a recreational or competitive level."
In the recently announced "Best of Golf Advisor 2015" Top 50 U.S. rankings, the 18-hole El Campeón received a Five-Star designation overall, the highest ranking possible. An original member of the 53-course Florida Historic Golf Trail, El Campeón showcases classic design as well as sharp elevation changes unique to the region.
"It is a distinct honor to be ranked second in the entire country by Golf Advisor," said Donna Beucher Line, part of the family ownership of Mission Inn Resort & Club. "We appreciate the Golf Advisor contributors recognizing El Campeón's blend of Old Florida charm and tradition, along with its variety of shot-making challenges."
The Bella Collina Golf Club in Montverde was ranked in the top five for its elaborate amenities. To find the golf courses with the best off-course amenities in 2015, Golf Advisor combined a course's food and beverage score with its conditions of overall facility. Reviewers noted, "The clubhouse and subsequent facilities are modeled after an Italian village."
Golf Advisor shares golfers' first-hand experiences at courses around the world. The U.S. rankings were compiled using reviews from everyday users, as well as expert lists from the Golf Advisor editorial team.
For more information about Lake County's premier golf courses, visit www.sportsinlakefl.com. To plan a trip to Lake County and find out why we are "Real Florida. Real Close." visit www.VisitLakeFL.com, or call 352-742-3918.