With summertime around the corner, are you looking for new ways to "go with the flow?" Lake Norris is making tides in the Lake County area with outdoor activities spanning across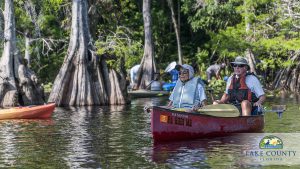 the 3,660 acres of lush natural environment. Visitors can quench their thirst for adventure with activities that include hiking, paddling, and canoeing.
Initially, the Lake Norris Conservation Area (38343 Lake Norris Road, Eustis) was allotted to protect the extensive hardwood swamp. This includes the shoreline of Black Water Creek, which is a tributary of the Wekiva River.
If you're looking for a darkwater lake that's home to vivid wildlife, then Lake Norris is your spot. On a typical paddling trip, expect to see osprey flying over your head or resting atop the many trees surrounding you. While gliding through the water, you might stumble upon a baby tortoise sitting on aquatic tree roots, or a reptile maneuvering through the water in a distance; not to mention the mesmerizing view of endless Bald Cypress trees bordering the lake. Paddlers can also expect to see woodstorks, ibis, robins and warblers along the shores adorned with native orchids and bromeliads.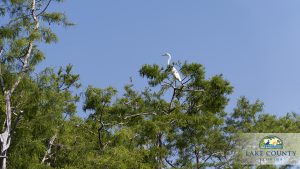 If you're a true outdoorsy type, primitive camping is available for visitors with a permit from the Lake County Water Authority. If that sounds too "Survivor"-esque, just stop by for the day for unmatched wildlife-watching.
And what better way to observe Lake Norris than on a boat? As adventurous as paddling can be, the waters of Lake Norris still offer moments of tranquility and reflection. The Lake County Water Authority allows visitors to borrow canoes by contacting their office at 352-324-6141. To feel the breeze through your hair without having to get on the water, horseback riding and bicycling is permitted to make you feel less like a "fish out of water."
With life's hustle and bustle, Lake County offers endless opportunities to pause to appreciate the earth and its natural beauty. For the most unique perspective of the area's wildlife, canoeists and kayakers can also glide along 139 miles of blueway trails as part the Lake County Community Blueways Project.
If you're feeling "wet behind the ears" on the topic of paddling, check out the video below to get a better picture of what Lake Norris has to offer. To learn more about water-based activities in Lake County, check out www.visitlakefl.com for more. To keep up with the Love Lake Life series, be sure to like Visit Lake County's Facebook page at www.facebook.com/LakeCountyFLTourism.
With protected wildlife and enchanting waters, Lake Norris is just one of the more than 1,000 named lakes which prove that Lake County is "Real Florida. Real Close."