Lake County's Top Restaurants with Outdoor Patios
There's nothing better than spending a summer day out on the patio. Except maybe spending it with friends and delicious food. And a little live music. And ice cold drinks. If that's what you're looking for, keep reading because we've got a list of all the best restaurants in Lake County with outdoor patios meant to be enjoyed.
Clermont & Minneola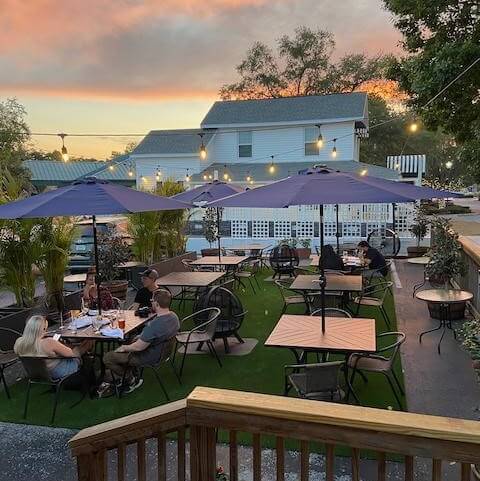 Pepe's Cantina
From authentic Mexican cuisine to innovative new dishes and even guacamole that's prepared right at your table — you'll love everything this restaurant offers, including the trendy outdoor patio.
The Crooked Spoon Gastropub
Delicious food in a beautiful space with covered outdoor patio, complete with cooling fans? That's what you'll find here. Enjoy your time with friends on the patio.
Clermont Brewing Company
Order up some food (nibbles, salads, tacos, pizza and more), grab a cold beer or cocktail, and head out to the back patio.
Southern on 8th
Pair elegantly plated southern comfort food with beautiful drinks on a patio you're sure to love.
Root & Branch | Bistro + Bar
This quaint spot has won the Best of South Lake two years in a row! Grab a table and experience fine dining with a unique twist. Sit on the patio for even more ambiance.
Tiki Bar & Grill
Voted the best place for wings in 2020 by best of South Lake, we know you'll love the wings and all the other items on the menu, too. Sit out on the lakeside patio for great views of Lake Minneola!
Groveland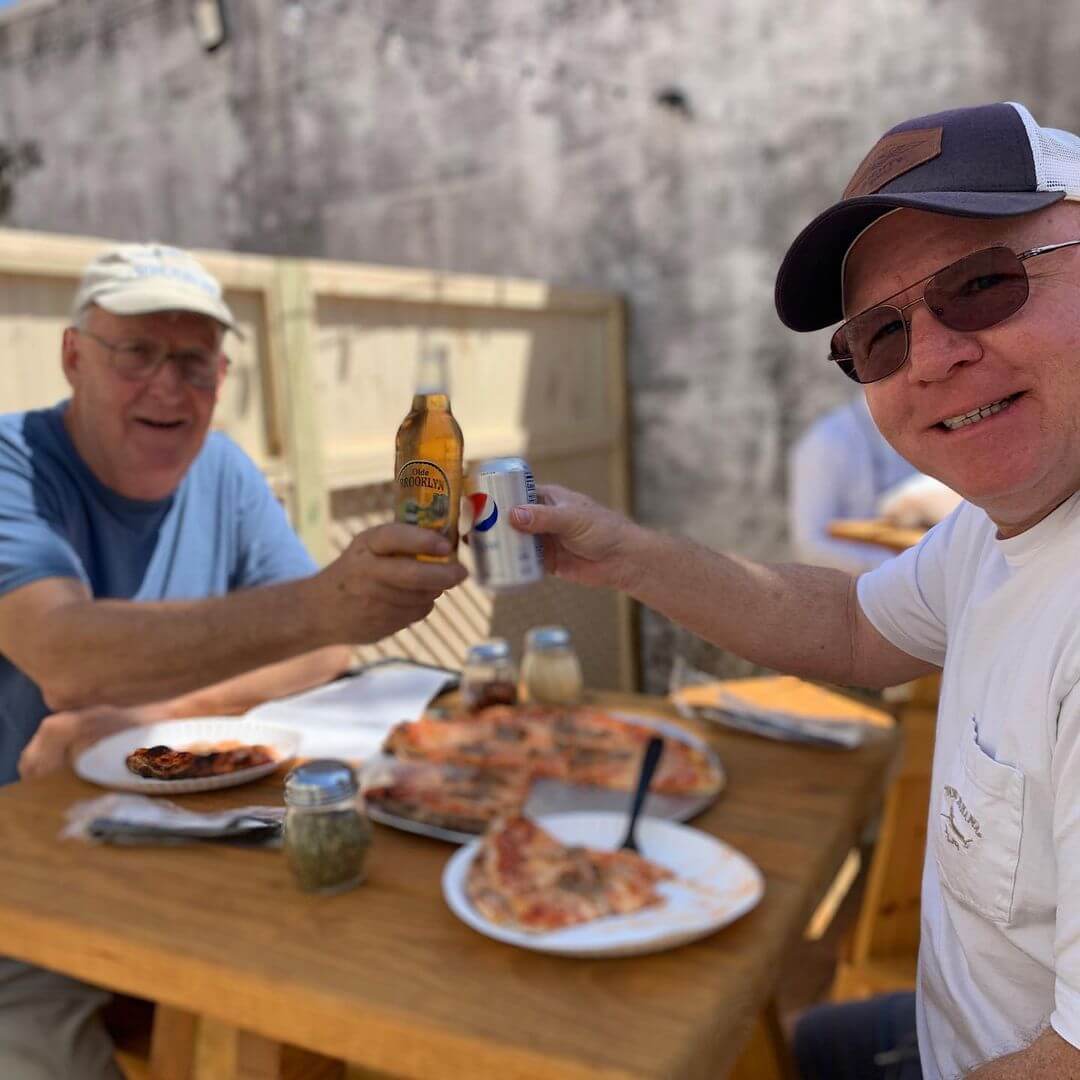 The Butcher Block Kitchen – Groveland
This quaint spot serves up breakfast, lunch and dinner with indoor and outdoor seating.
Chefing It Up
Relish authentic Italian food at this local favorite, and sit in the back courtyard with friends! Enjoy community events here, as well.
Mount Dora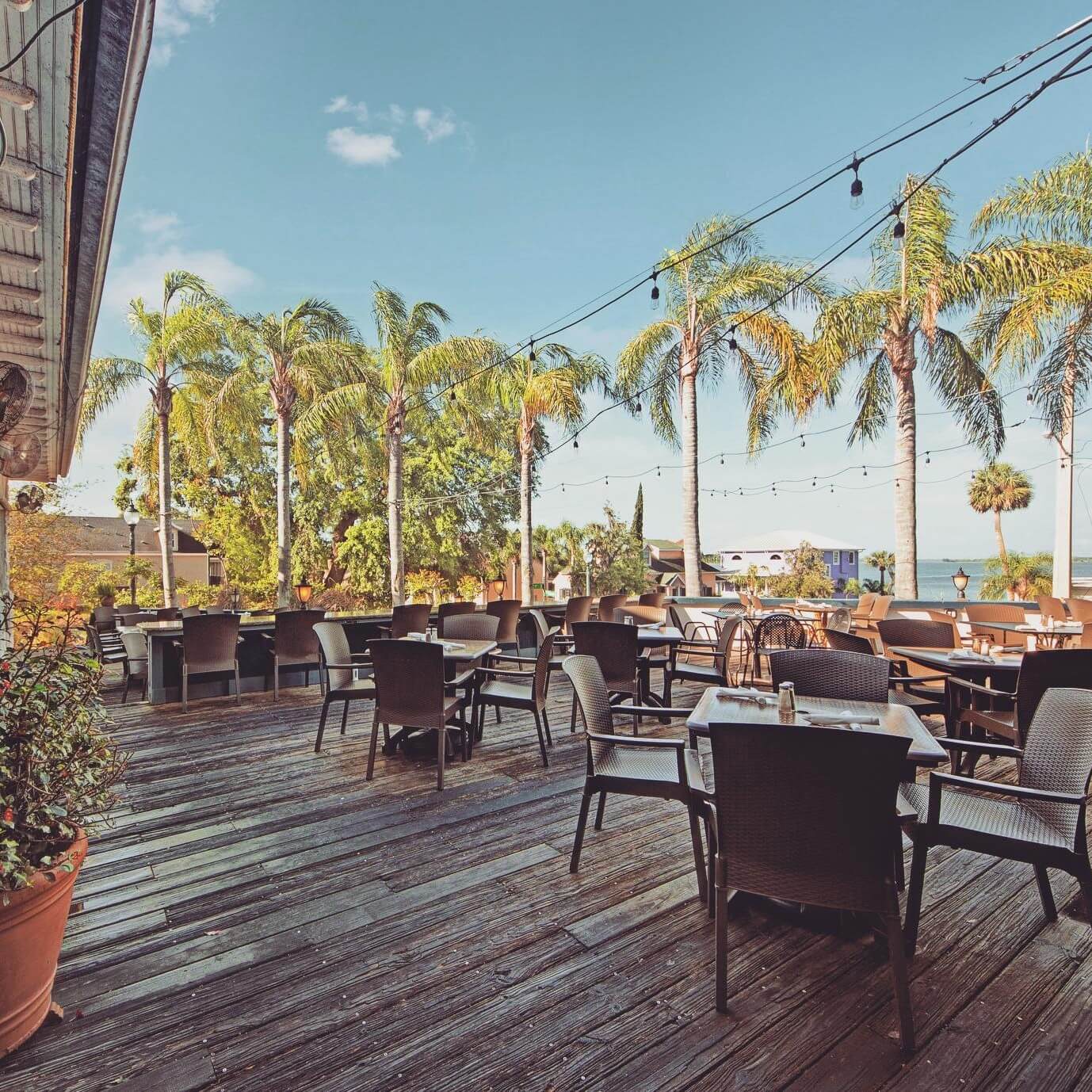 Pisces Rising
Feel like royalty on this patio as you dine on fantastic dishes like crab stuffed salmon or mouth-watering filet mignon while overlooking Lake Dora. Bonus points if you catch the views at sunset.
Olive Branch Mediterranean – Italian
Pick a spot on the patio and feel the wind in your hair while enjoying an amazing meal at Olive Branch, just steps from Lake Dora.
Copacabana Cuban Café
Enjoy some amazing Cuban food on the patio at this delicious restaurant in Mount Dora.
Howey-in-the-Hills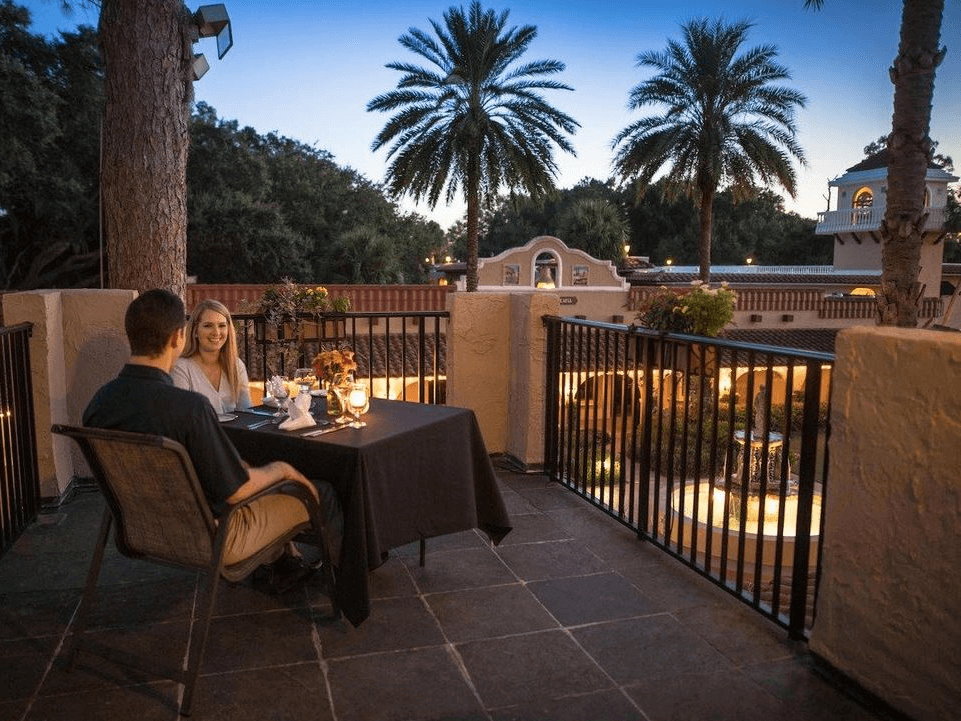 Mission Inn Resort & Club
After finishing up a round of golf, take some time to enjoy a special meal at one of several restaurants at this amazing resort. Opt outside at dusk for amazing sunset views.
Leesburg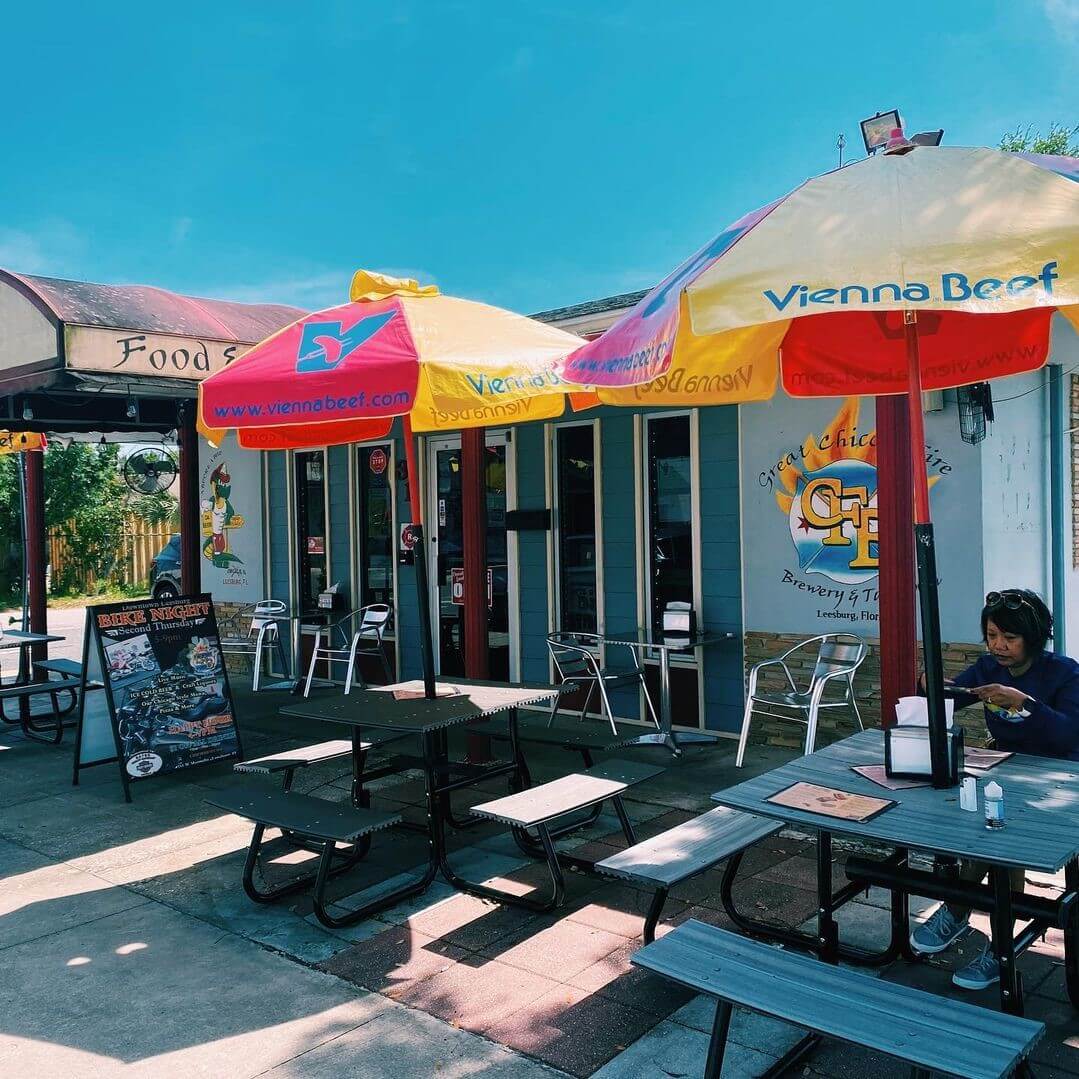 The Brick & Barrell Public House
Find pub-style food here, along with live music and other events.
Great Chicago Fire Brewery & Tap Room
This brewery has everything from pizza, subs and hot dogs to fresh, cold beers plus bike nights, car shows and more. Enjoy it all from the patio (or the available indoor seating).
Tavares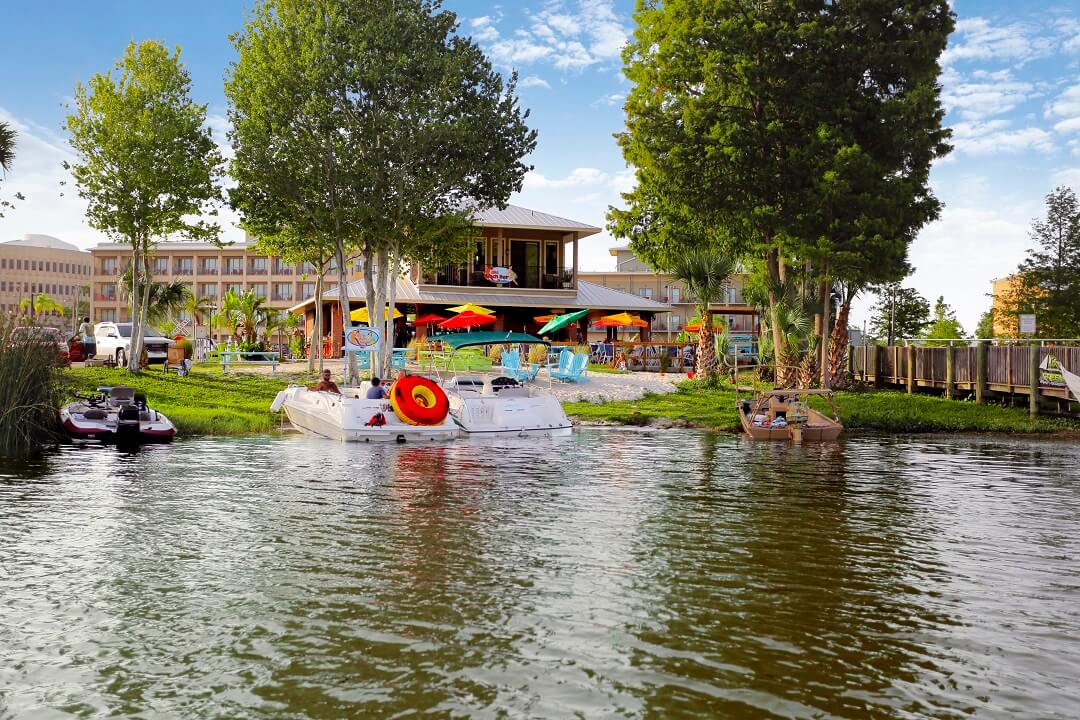 Kalua Beach Bar
This laid back favorite puts you right on the sandy shores of Lake Dora. Enjoy the atmosphere with good friends.
Puddle Jumpers Lakeside Grill
Enjoy good food, live music and a variety of drinks from the rooftop patio that overlooks Lake Dora.
Tiki West Raw Bar and Grill
Always fresh, dishes here are best enjoyed with friends. Snag a table outside for views of seaplanes on Lake Dora.
O'Keefe's Irish Pub
Get your fill of authentic Irish cuisine at this local pub, and find seating inside and out.
Buster Tubbs
This friendly neighborhood watering hole features live music, good eats and cold drinks on the patio.
Hurricane Dockside Grill
Kick back with friends and great food while enjoying the spacious patio with views of Dead River.
More Great Options…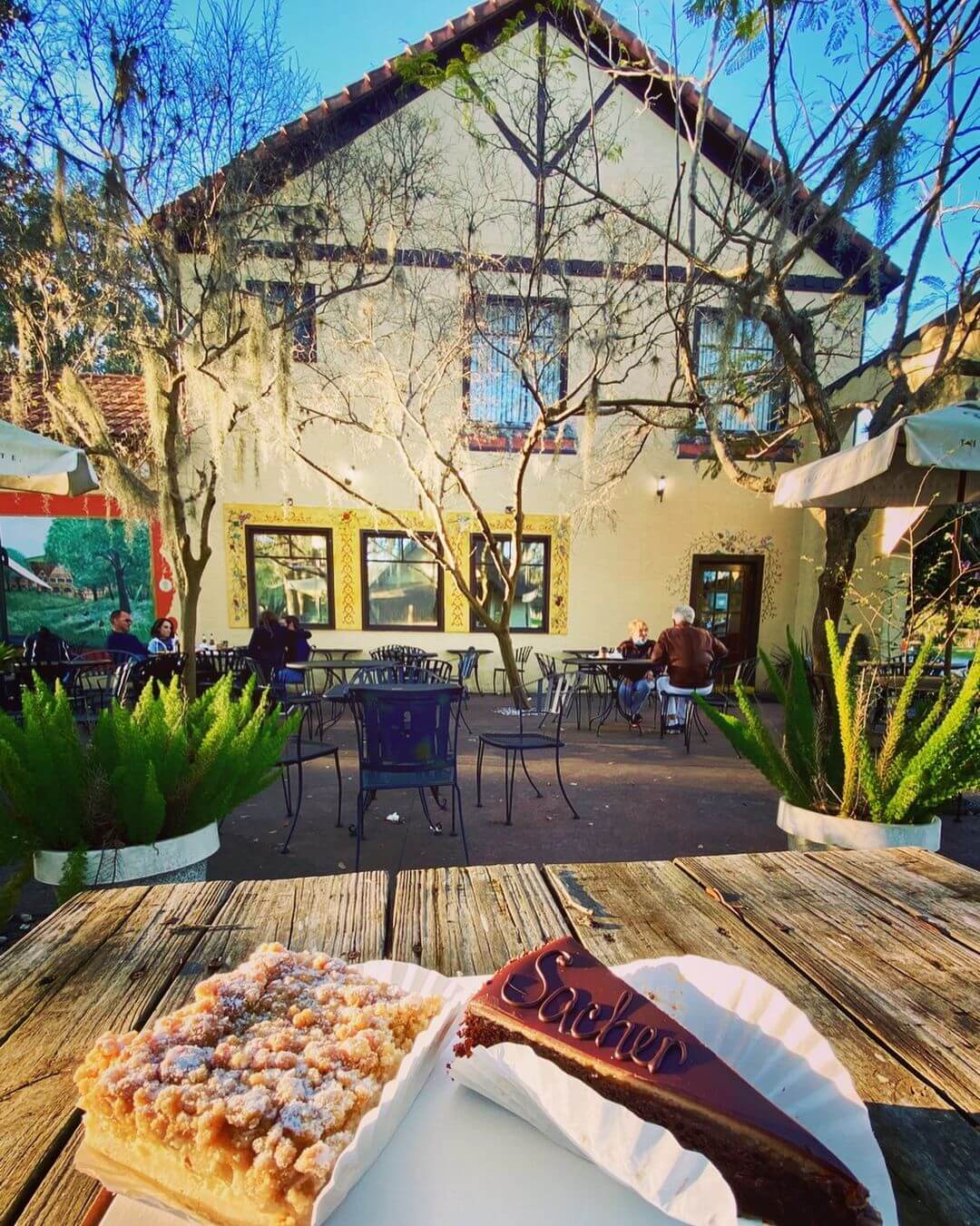 Yalaha Bakery & Delicatessen – Yalaha
This decadent bakery and delicatessen presents you with sweet treats, deli bites and more. Check their website for music events, too.
The Crazy Gator – Eustis
Indulge in mouth-watering entrees on the shores of Lake Eustis.
El Marie Pizzeria & Sub Shoppe – Eustis
Enjoy pizza, calzone, antipasta and more with views of Ferran Park and Lake Eustis.
Legends – Fruitland Park
Known for great food and amazing drinks, this restaurant also has a spacious outdoor patio.
La Palma Mexican Grill – Fruitland Park
Stop in for fresh, authentic Mexican food! Sip a cocktail on the breezy covered patio while savoring delicious enchiladas, fajitas and other favorites.
The Rose Plantation – Fruitland Park
This beautiful spot serves up delicious lunch and dinner. They also have an amazing wine list. Very limited outdoor seating, though.
Amerikanos Grill – Lady Lake
Stop by for great Greek food, live music and cold drinks on the patio!
Brisas del Mar – Lady Lake
Looking for authentic Mexican food in a fresh atmosphere? This is the place!
Where is your favorite outdoor patio?