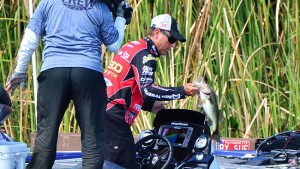 Jack Link's Major League Fishing, the most-watched fishing show on television, recently filmed its Shell Rotella Challenge Cup on the Harris Chain of Lakes. The Challenge Cup, which is the 13th Major League Fishing production, will showcase 30 of the world's top competitive anglers as they tackle the water bodies of Lake County.
The seven episodes filmed locally will initially air between May 14 and June 25, receiving almost 70 hours of airtime on the Outdoor Channel.
"This is a region known around the country for great fishing," said Major League Fishing Commissioner Don Rucks. "And everything about our experience here, from the community support to the quality of fishing, has been first-class. As far as Lake County goes, it's a mixture. Our anglers are familiar with the Harris Chain, which is nearby, but most have never spent any time on other lakes in the county – and, believe me, there are plenty of great fishing lakes here."
The league's made-for-television events utilize a format that allows anglers to weigh all the scorable bass that they catch. Bass are immediately weighed after they are caught, then are released back into the water. Anglers know where they rank in the standings at all times via real-time leader boards in their boats. The competitors are not allowed to practice or to solicit or receive information before events.
"Jack Link's Major League Fishing show will spread the word nationwide about what we already know – Lake County is the premier destination in Florida for trophy largemouth bass fishing," said Adam Sumner, Lake County Economic Development & Tourism Division Manager.
For the show's airtimes on the Outdoor Channel, World Fishing Network and CBS, visit Major League Fishing.
Featuring 1,400 named lakes and seven of the top 11 lakes for number and size of bass fish in Florida, Lake County is the place to catch trophy fish. To plan your next fishing trip, visit Lake Big Bass.