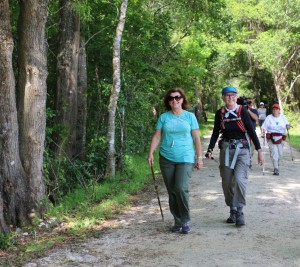 Situated on the northern shore of Lake Apopka, the Lake Apopka Loop Trail began with 6.3-miles of recreation trail allowing visitors to traverse a unique landscape of levees, canals and wetlands. With the completion of the newest extension in 2016, the loop trail encompasses 18 miles of pristine, natural terrain.
Lake County partnered with St. Johns River Water Management District to build the 2.5-mile trail connection that joins the Green Mountain Scenic Overlook and Trailhead with the Lake Apopka Loop Trail, providing expanded opportunities for ecotourism, hiking, bicycling and sports training.
The extension links Lake County's trail with the district's 18-mile Lake Apopka Loop Trail and provides access to the western edge of the Lake Apopka North Shore, allowing visitors to traverse a network of wetlands, levees and canals.
Lake Apopka is Florida's fourth largest lake, and one of the county's premier birding destinations. With more than 370 species recorded along the lake's northern shore, birders travel from all over the world for the opportunities to see spectacular birds including swallow-tailed kites, herons, egrets, sparrows, and warblers, among a number of rarities.