Reconnect with Family in Lake County, Florida 
Our families mean a great deal to us, whether it's those we were born into or the ones we formed ourselves along the way. They're here for us when we need it most, but sometimes the everyday stressors of life can get in the way. The remedy? Slowing down, unwinding and getting back to a happier time with the ones you love. When it's time, the Real Florida is here for you. Read on to find out how to make the most memorable family connections in Lake County, Florida.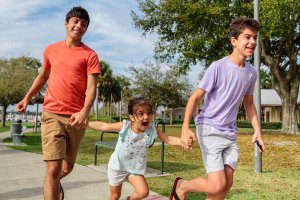 It's Time for Family
There's no better way to reconnect with loved ones than to get away from the 'every day' and reopen the lines of communication. Once you're in the Real Florida, you'll find a wide range of ways to do this, from participating in activities together and learning more about the people they've become to just having the time to finally sit down and enjoy each other's company.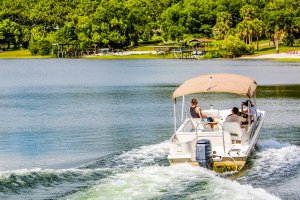 Reconnect on the Water
Boating is a family-favorite that has a lot to offer, both in activity options as well as in connecting with loved ones. One option is heading out on the water with your own boat, or a rented boat, for a day of sunshine, sightseeing and great conversation. Fishing is also an option, and there are many fishing guides in the area who can give you and your family the chance at the big catch and memories that will last a lifetime.  
Another great idea is taking a boat tour. If it's a larger boat you've got in your sights, try a day tour of the area's waterways via pontoon boat. These tour boat captains provide an unforgettable experience for those on board, not only by pointing out local highlights but also by creating a personalized experience. Some options include Rusty Anchor tours out of Mount Dora and St. Johns River Scenic Boat Tours out of Astor. If you prefer gorgeous views as a backdrop for family time, but without the guided tour, book a trip on the Dora Queen, a luxury paddleboat that glides over Lake Dora. Brunch and dinner tickets are available as well as event bookings, providing your family with the time to sit back, relax and enjoy the moment.  
For a more independent experience, take a seat aboard a two-person cat boat. Available as a guided tour or rentals, cat boats allow you to control the speed of your adventure while experiencing it with loved ones, either in the seat next to you or in the next boat.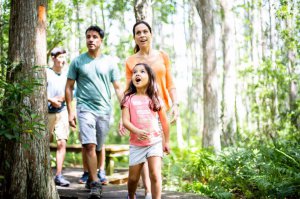 Reconnect in Nature
The Real Florida also provides many opportunities to reconnect with loved ones among some of the most scenic nature preserves in the state. From state parks and preserves to local waterfront parks, there are so many hiking, biking, cycling and horseback riding trails in the area that you can explore many new locations every time you visit.  
Ferndale Preserve and the Palatlakaha Environmental and Agricultural Reserve (PEAR Park) are perfect for hiking, birding and taking in the beautiful scenery. Ferndale Preserve also features an equestrian trail, while PEAR Park provides picnic pavilions, a playground and sport fields. Perhaps more fitting for little ones as well as kayak enthusiasts is Lake Idamere Park in Tavares, complete with accessible playground and baseball field, picnic pavilions, a kayak launch, fishing pier, hiking trails and more.  
For the ultimate outdoor adventure with family, look into camping. With many available options such as RV and tent camping at state parks and other local campgrounds, as well as a luxury glamping experience at Lake Louisa State Park, you may find yourself starting a new tradition or favorite family pastime. After all, campfire conversations paired with roasted marshmallows and joyful smiles on your family's faces are the things dreams are made of.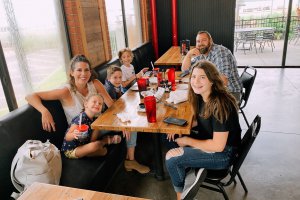 Reconnect in the Real Florida
There are many other opportunities to reconnect with family in Lake County, as well, including spa days for moms and daughters or tee times for golf loving families. Take some time to peruse local shops in Clermont, which is a great bonding experience that also gives the added bonus of great dining and shopping options. For foodies, the Real Florida offers a wide range of dining options, including many waterfront restaurants. And for family photos that will be treasured for years to come, check out one of the area's many U-pick farms, such as Showcase of Citrus, with a variety of fresh citrus and other fruits all year long.  
When planning your family trip to the Real Florida, keep in mind the different interests that everyone may have and try to plan something for everyone. Not only is it a great idea to make sure everyone is included, but it will also help you and other family members to learn more about each other, which is what family connection is all about.