Love adventure? Have kids that love adventure? Whether you're thinking about taking your kids on a fun-filled trip or just want to entice your teen away from their smartphone long enough to enjoy the world around them, we've got you covered. Here are some tried and tested Real Florida ideas for kids of all ages – yes, even you – that spark the light of adventure.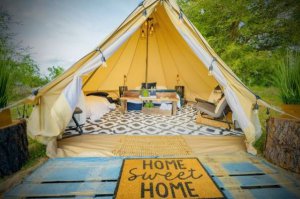 Set Up Camp and Let the Good Times Roll
Ah, camping. Crickets chirping. Wind rustling through the trees. Roasting marshmallows over the fire while telling ghost stories. Nothing says adventure like roughing it in the woods, and the Real Florida has some absolutely stunning spots to make this happen. From traditional tent camping to cabins, RV locations and even glamping, you'll find it here.
When it comes to camping, there's no better place to pitch your tent than the Real Florida. Check out Lake Griffin State Park for a range of shaded camp sites, including some with electricity. During the day, launch your boat or kayak from the boat ramp and paddle along the Dead River and into Lake Griffin for incredible views and wildlife spotting. The Alexander Springs Recreation Area offers individual and group camping. Though the water of Alexander Springs may not be suitable for regular swimming during the winter months, it's perfect for scuba divers. Just don your cold water gear and explore this pristine spring at your leisure. Lake Louisa State Park is another that offers a range of camping experiences, from primitive camping to equestrian camping, cabins, carefree camping where your tent site is prepared for you, and even glamping, which comes complete with air conditioning, pillow-top beds and much more.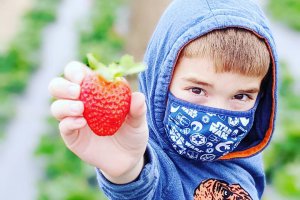 U-Pick Your Way to Family Fun
U-pick farms are another great family adventure. Pack a picnic lunch, gather everyone in the car and head out to one of the area's many U-pick farms. Showcase of Citrus is a local favorite and has a ton of activities kids will love. In addition to picking delicious, ripe citrus fresh from the grove and perusing the Old Time Country Store, you and yours can get a tour of the farm via monster truck or get a lesson in science and geology while mining gems, fossils, shark teeth and more in the on-site gem mine. Kids of all ages will also enjoy visiting with the farm animals. This farm, as well as others like Graham Farms, are also perfect for getting those amazing family photos. Check out more local U-pick farms for even more fun.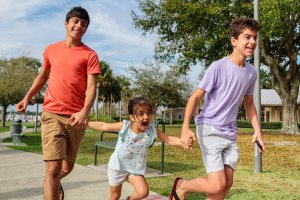 Choose A Park and Burn Off That Extra Energy
Need to burn off a little energy? The Real Florida has just the thing. No matter where you are in the area, chances are there is a kid-friendly park nearby with playgrounds and loads of other amenities like fishing piers, picnic pavilions, hiking trails and more.
West Beach Park in Clermont sits on the shores of beautiful Lake Minneola. Families can enjoy the expansive playground, a fishing pier, sandy beach and a picnic area as well as many shady spots to stay out of the sun. Hickory Point Park in Tavares features expansive grounds and a boardwalk pier perfect for a day of fishing. This park also includes a nature trail, outdoor picnic areas with barbeque grills, a playground, horseshoe pits, a sand volleyball court, a swimming beach and open field play areas. A large on-site screened pavilion is also available for rentals. Another great option is Lake Idamere Park, which is also in Tavares. In addition to nature trails, a fishing pier and many shady spots to enjoy the breeze, this park features an accessible playground so that children of all abilities can play together. Miracle League Field is also located within this park.
These are just a sample, so check out this page for a full listing of the area's parks.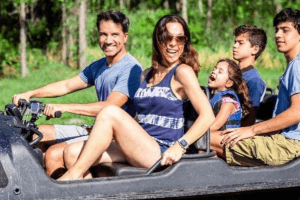 Hop Aboard the Mucky Duck
Hop aboard the what? The Mucky Duck! So-called because it can get down and dirty. It's an 8-wheeled amphibious vehicle that tackles all kinds of terrain, including water! Revolution Adventures brings you this incredible experience, and as long as the driver is 18 years of age or older, passengers as young as three can come along for the ride. It's the only place in the area to offer something like this, and we highly recommend it for those who aren't afraid to get a little dirty. (Ok, very dirty.)
The company also offers other motorized and non-motorized adventures, but many require participants to be at least 16 years old.
Now that you have some ideas in mind, start planning! Trust us, your kids will thank you.