The sun is high on a beautiful Florida day. You're surrounded by greenery as you glide across calm, glass-like water. It's quiet. Only the sounds of chirping birds and your own heartbeat break the silence. 
Sounds fantastic, doesn't it? Now experience it for yourself. 
Explore Lake County's incredible greenery, abundant wildlife, and postcard-worthy lakes (of course!) from a new perspective… kayak. Beginner or novice, there are countless blueways to explore and several local outfitters to help get you on your way. Consider starting your discovery on one of our suggested runs below and paddle on.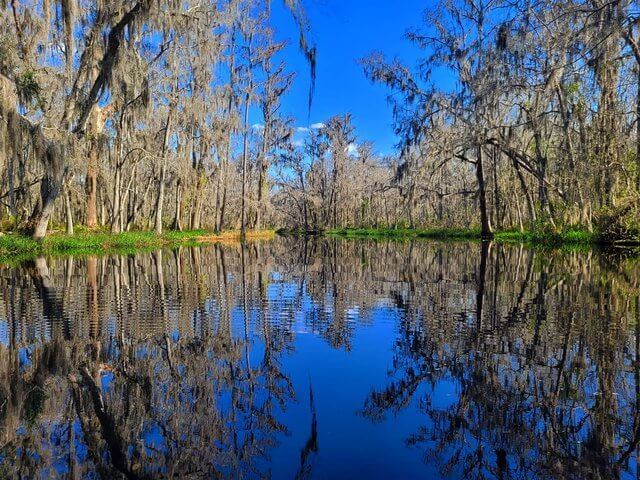 Lake Apopka Run
The Lake Apopka Run begins at the McDonald Canal boat ramp and then enters the Apopka-Beauclair Canal before traveling south into Lake Apopka. Follow the shoreline for an 8-mile-long, front row seat of Florida's fourth-largest lake or explore some of the small run-offs for a more intimate peek at the area's abundant wildlife. Lake Apopka has gone under a massive revitalization in recent years, putting the lake, once again, on the top of the list for anglers and avid paddlers alike.   
Lake Harris Run
Once named Lake Astatula — translated to "Lake of Sunbeams" in Native American — this blueway of thirty-seven miles runs the perimeter of beautiful Lake Harris. This beginner-level paddle has three entry points to the lake — Singletary Park in Leesburg, Hickory Point in Tavares, and Astatula Park — so you can glide as much or as little as you'd like. Visitors especially enjoy breaks at the Hickory Point Recreational Facility due to the impressive amenities like outdoor picnic areas, BBQ grills, horseshoe pits, volleyball courts, trails, and more. Come prepared for beautiful views and unforgettable sunsets.
Golden Triangle Run 
From the "Lake of Sunbeams" to "the most beautiful mile of water in the world",  we suggest traveling the Golden Triangle waterway that has earned its name by connecting three neighboring cities: Mount Dora, Tavares, and Eustis. Totaling 10.5 miles of magic, the must-see portion of the run is the mile-long Dora Canal, which connects the lakes of Dora and Eustis and offers an eyeful of wildlife and an encompassing canopy of bald cypress trees and hanging Spanish Moss. Experienced paddlers can take their time enjoying the views through the canal and across the open lakefront of Lake Dora.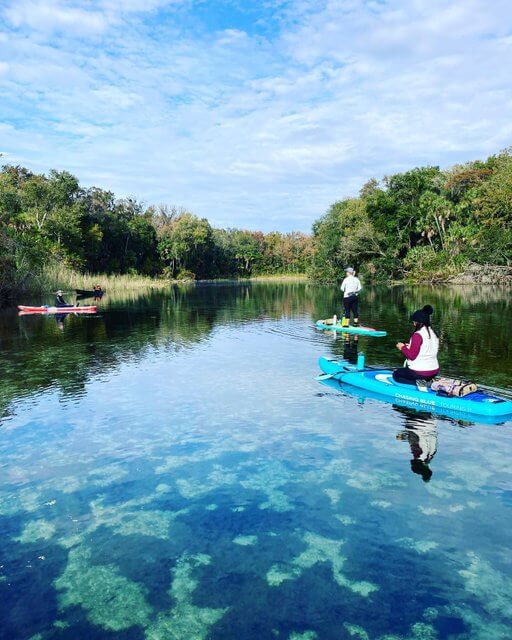 Blue Creek Run
The Blue Creek Run will take you on a 4-mile journey through the Ocala National Forest, which you'll see is filled with impressive wildlife (birds, bears, and gators, oh my!) and exquisitely calm waters. The Blue Creek Run connects the St. John's River to the quaint town of Astor, which also happens to be home to some of Florida's crystal-clear freshwater springs. A consistent 72° in temperature could provide an excellent reward for completing this challenging run. 
Palatlakaha Run 
Stretching across seven bodies of water — including Lake Minneola, Lake Minnehaha, and Lake Louisa — the Palatlakaha Run is the longest waterway in Lake County. But don't let the distance startle you; anyone can partake in the adventure with a beginner-level rating and multiple entry points. Lake Louisa State Park and Crooked River Preserve are protected areas you will encounter along the run and are definitely worth the visit. Submerged cypress trees and tall grasses grow along the water's edge, creating a safe yet freeing experience you won't soon forget.