There is nothing quite like a Florida vacation. Southern sunshine and hospitality mixed with one-of-a-kind experiences. Here's eight unique stops you have to make on your next trip to Lake County, Florida. 
Lakeside Inn
Not only will you find charming, lakeside accommodations at Lakeside Inn, you'll be staying where history was made. This 134-year-old property is the oldest continuously operating hotel in the state. Sit on the dock and watch as the seaplanes land on the glistened lake or tour the room President Coolidge and the First Lady stayed in for respite after his Presidency. There's so many delectable pieces of history to take in, learn more here. 

Showcase of Citrus
Their name perfectly fits this delicious experience in Lake County. A trip to the Showcase of Citrus will give you just about every orange-flavored product you could dream of. From bottles of citrus salsa to orange scented candles – if it's citrus, you'll find it. We recommend stopping in from November to May when you can pick your own fruit from their more than 50 varieties of citrus! Check out all this Lake County-only attraction has to offer here. 
Peddler's Wagon
It's Christmas all year long at the Peddler's Wagon! This home decor store features a year-round Christmas room with thousands of holiday items that will make you fill with the holiday spirit. Once fall hits the entire 7,000 sq foot store will transform into Christmas paradise. The owner's motto is that "Christmas is a joy that should never really go away!" Learn everything there is to know about the Peddler's Wagon here.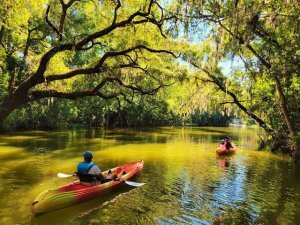 Dora Canal
Lake County is known as the home to 1,000 lakes, but one of the best water features is the Dora Canal, which is a mile-long waterway connecting Lake Dora and Eustis. You'll find a beautiful canopy of cypress trees with Spanish Moss and no shortage of wildlife. Here are five ways to explore the Dora Canal. 
Howey Mansion
Step back in time to the gilded age inside the Howey Mansion, William J. Howey and his wife built the home in 1927, purchasing 60,000 acres along with it for citrus groves. They also founded the town of Howey-in-the-Hills. Abandoned for nearly 10 years, the mansion was purchased in 2017 and is being restored. It currently is open for tours, events, parties, and weddings. Click here to book your tour.
No need to travel the country to learn about our country's Presidents, you can educate yourself in this one-stop-shop of the Presidents Hall of Fame. Once described as a national treasure by President Ronald Reagan, the Presidents Hall of Fame has been featuring White House memorabilia since the 1960's. Make sure to check out the scaled version of the White House and Mount Rushmore!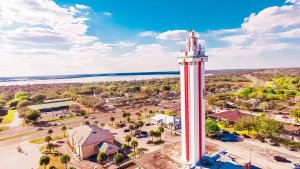 Citrus Tower
You can't take in the citrus history like this anywhere else. Ride the elevator 22 stories up to experience one of Florida's first attractions built in 1956. You'll see panoramic views from the top glass enclosure where you can take in Lake County's beauty. Book your ticket today! 


Lake Griffin State Park
If you're looking for nature, you can't skip Lake Griffin State Park. This incredible gem is home to the state's second largest live oak tree. The Mammoth live oak is estimated to be between 300 and 500 years old. Explore the entire park here.