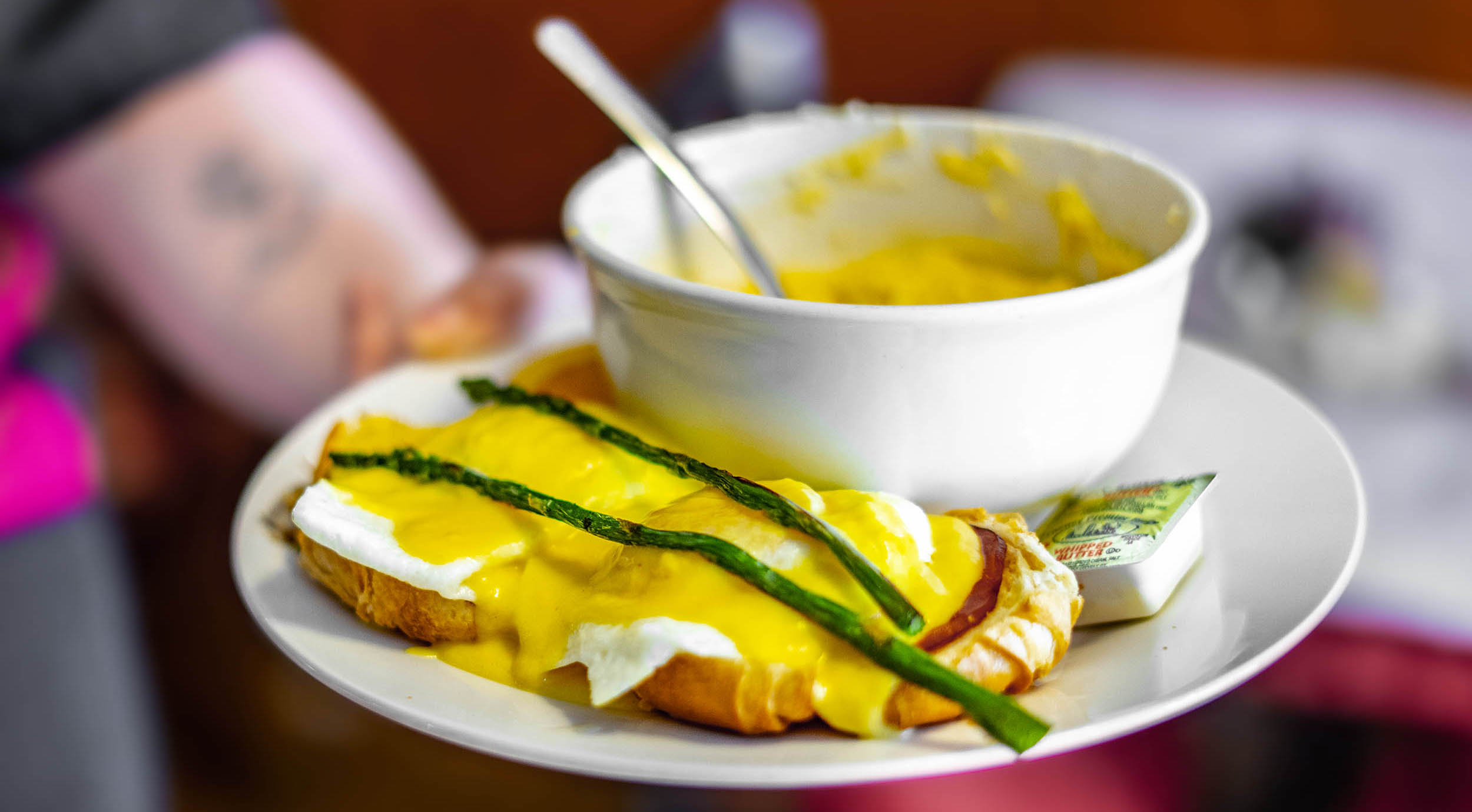 Sharing friendly conversations over light breakfast fare is a breezy pastime in Lake County. Several local restaurants are set and ready to go during early hours of the morning to offer guests a scrumptious first meal alongside a cozy vibe. Kick off your day with a delicious dish from these breakfast spots in Lake County!
🥪 Cody's On 4th
City: Mount Dora | Address: 111 E 4th Ave, Mt Dora, FL 32757 | Website: https://www.codyson4th.com/
This café is tucked in Historic Downtown Mount Dora, featuring assorted coffees, homemade pastries, salads, sandwiches and even wine. It's a great place to start your morning before strolling down North Donnelly Street.
🍳 Bloom's Baking House
City: Leesburg | Address: 610 W Main St, Leesburg, FL 34748 | Website: bloomsbakinghouse.com
This baking house and restaurant in Downtown Leesburg has a charming aesthetic set by exposed-brick walls & wood floors. The vintage feel is further portrayed in their classic American dishes and traditional décor.
👓 Papa's Diner
City: Clermont | Address: 626 FL-50, Clermont, FL 34711 | Facebook: Papa's Diner
This Clermont staple has been serving breakfast to locals for over 30 years, featuring a classic diner aesthetic with a subtle farmhouse vibe. Friendly service is paired with modestly priced menu items.
🥓 Mason Jar
City: Umatilla | Address: 37534 FL-19, Dona Vista, FL 32784 | Facebook: The Mason Jar
This restaurant captures Real Florida, Real Close through it's country ambiance, flaunting wooden accents and cowboy décor. The vibe is capitalized with classic Southern dishes, complete with sweet tea!
🌤️ The Loft Café
City: Mount Dora | Address: 411 N Donnelly St #212, Mt. Dora, FL 32757 | Facebook: The Loft Mount Dora
This little gem is located on the second story of a Mount Dora building, offering a quaint feel with its cozy aesthetics. Everyone is welcome to dine-in, including vegans and vegetarians!
🍽️ Old Time Diner
City: Leesburg | Address: 1350 W N Blvd, Leesburg, FL 34748 | Facebook: Old Time Diner
The retro ambiance of this diner is set with vintage pictures that include photos of Elvis Presley and Marylin Monroe. Per vintage diner fashion, the restaurant serves burgers, sandwiches and subs as well as seafood, steak and pasta for dinner.
🎖️ Combat Café
City: Eustis | Address: 1602 FL-19, Eustis, FL 32726 | Facebook: Combat Cafe
This military-themed restaurant strives to honor veterans, servicemen and servicewomen through combating the community's hunger. Patriotic decorations and inspiring phrases are sprinkled throughout the café for an empowering experience.
🧀 Cheeser's Palace Café
City: Clermont | Address: 707 W Montrose St, Clermont, FL 34711 | Website: cheeserspalace.com
This cheese-centric nook offers a quaint breakfast environment in Historic Downtown Clermont. It's an optimal spot to visit on Sunday right before heading to the Farmer's Market.
📍 Restaurant Locations
Who Are We Missing?
Are there any spots in Lake County that you think should be on this list? Let us know in the comments below! Stay connected through our website, Facebook, and Instagram.