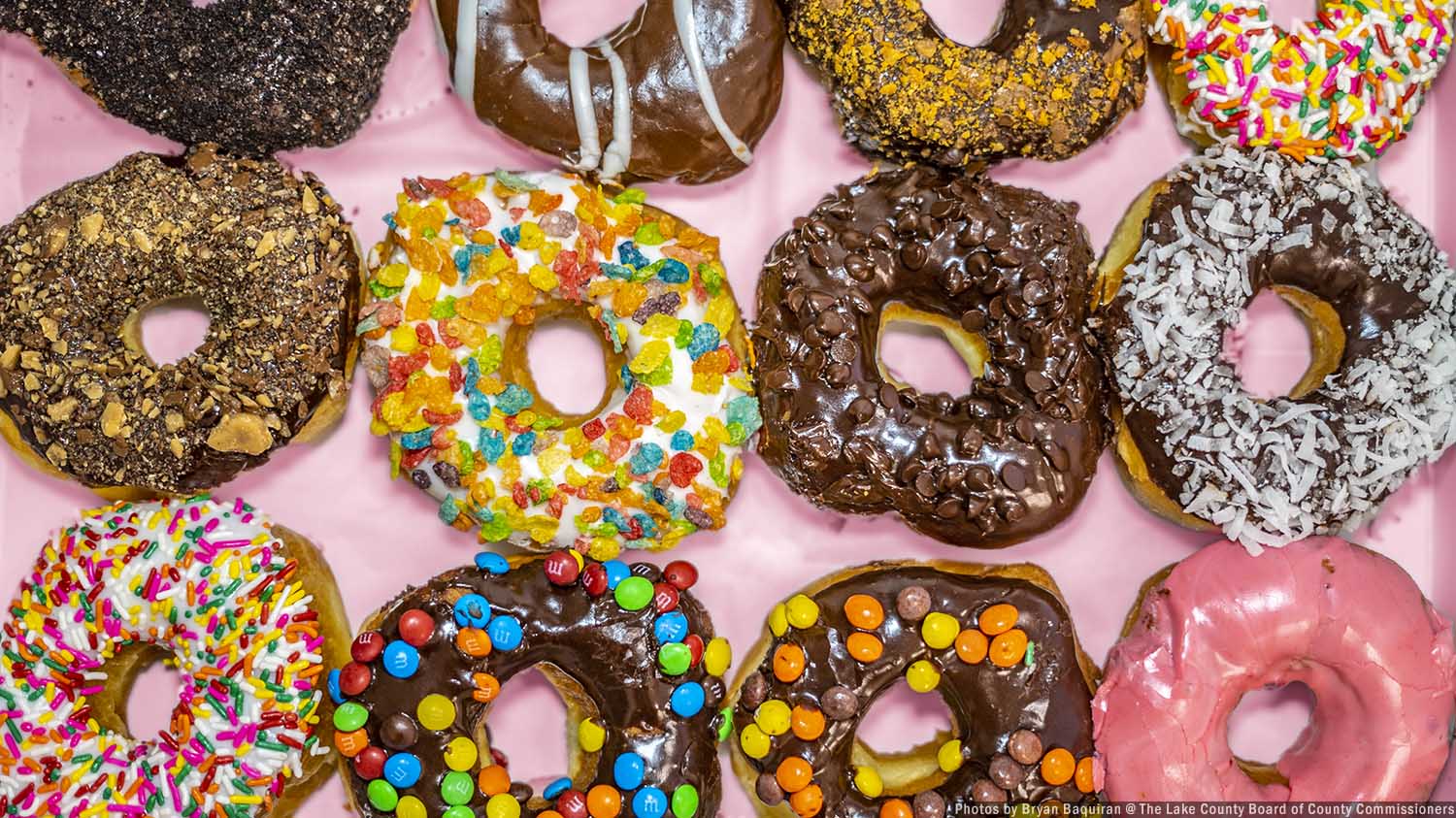 If you're looking to treat yourself to a delectable doughnut, here are spots in Lake County that you shouldn't just GLAZE over!
1. Dip-A-Dee Donuts
This Leesburg doughnut shop is for early birds, opening up at 5:00 a.m. Different doughnuts are made every day, so you won't know what surprise will greet you on your next visit! *Pro-Tip: If your doughnut isn't cream-filled, they'll fill it with cream at your request!
Address: 1376 W N Blvd, Leesburg, FL 34748 | Phone: 352-460-4266 | Web: Facebook
2. Southern Hill Eatery
If you're looking for doughnuts made with locally-sourced ingredients, support a family farm by visiting Southern Hill Farms in Clermont. Their doughnuts are made fresh with blueberries picked from their very own blueberry fields! *Pro-tip: If you're looking to try their blueberry lemonade, you can also ask for it in frozen slush form!
Address: 16651 Schofield Rd, Clermont, FL 34714 | Phone: 407-986-5806 | Web: Facebook, Video
3. Donut King
This Minneola doughnut shop is famous for their consistency in delivering fluffy confections. The best part is that they're open 24 hours a day! Whether it be morning cravings or midnight munchies, you can satisfy your sweet tooth anytime. A huge variety of doughnuts and a fast-moving line ensures a pleasurable doughnut experience.
Address: 208 S Hwy 27, Minneola, FL 34715 | Phone: 352-243-4046 | Web: Website, Facebook
4. KnockOut Mini Donuts
If you like your doughnuts bite-sized, try out this doughnut operation in Renninger's Flea Market at Mount Dora. The doughnuts are made fresh to order and prepared in front of your eyes. If you're looking to get your hands on a bucket of miniature doughnuts, you'll have to stop by during the weekend because the operation is only open on Saturday and Sunday!
Address: 20651 US Highway 441, Mount Dora, FL 32757 | Phone: 352-817-7707
Are we forgetting a doughnut spot?
If there's a doughnut spot in Lake County that you feel we should have included in this list, let us know in the comments below!