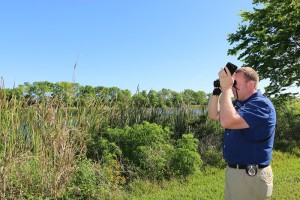 TAVARES — Lake County Parks & Trails Specialist Gallus Quigley has broken the Lake County "big year" record, counting 220 birds in Lake County since Jan. 1.
"It's been an absolutely awesome experience," said Quigley. "In one weekend alone, I saw four new birds, three birds new to Lake County, two rarities for Florida and reached my goal with lots of time left in the year to go!"
Quigley's record-breaking bird was the Black Tern, spotted at the Lake George Boat Ramp in Astor. To complete his challenge, Quigley had to venture to the farther corners and lesser known birding spots in Lake County.
For example, at Carlton Village Park in Lady Lake, he found nesting Mississippi Kites – uncommonly found in the county and only documented breeding in the area once before. He was also surprised at Sabal Bluff Preserve in Leesburg, a Lake County Water Authority property
"Never assume anything until after you check it out," said Quigley. "Sometimes, these little tiny out-of-the way spots have really good birds."
However, checking out Lake County's prime birding locations was also a no-brainer to get Quigley's bird count up. The Lake Apopka North Shore Trailhead and the Green Mountain Scenic Overlook are two favorites among birders in the know.
"Green Mountain is one is one of my favorite places to bird," said Quigley of the 130-foot elevated boardwalk leading to a 20×20 foot overlook. "Standing out on the tower and watching the morning flight of birds is just amazing. They are flying by you on eye level instead of you staring up at them. It's a completely different perspective on birds."
In fact, as a keynote speaker for the upcoming Wings & Wildflowers Festival in October, Quigley will lead two field trips to Green Mountain: Nocturnal Migration on Thursday, Oct. 1 from 6-9 p.m. which will allow participants to see migratory birds crossing the moon; and Birding Green Mountain, a morning migration hike on Saturday, Oct. 3 from 7:30 – 11 a.m.
Visit lakecountybigyear.wordpress.com for details on Quigley's Lake County Big Year. For more on the Wings & Wildflowers Festival, visit www.wingsandwildflowers.com, www.twitter.com/wingswildflower and www.facebook.com/WingsandWildflowers.