Lake County brewers and farmers team up for craft beer.
Fans of craft beer love to try new, unique flavors, like oatmeal and blueberries, oranges and coriander, sweet and spicy.
Visitors who want to sample the flavors of Lake County can enjoy a cold one that's locally brewed and infused with locally grown ingredients. In a time when many restaurants promote "farm-to-table" foods, craft brewers have a "farm-to-bottle" arrangement with county farms that provide organic products for specialty beers. These cross-promotions build relationships and create positive word-of-mouth for county businesses.
Lake County is home to several craft breweries and several more are in the works. The increase in new sites coincides with the growing popularity of craft beer. For example, more than 900 tickets were sold for the 2018 Leesburg Craft Beer, Wine, and Food Festival, an annual event staged in November.
Wolf Branch Brewing Company, opened in 2018 in downtown Eustis, hand-crafts Old World-style beer infused with modern tastes. Co-founder and master brewer Jose Villafana Jr. is a graduate of the World Brewing Academy.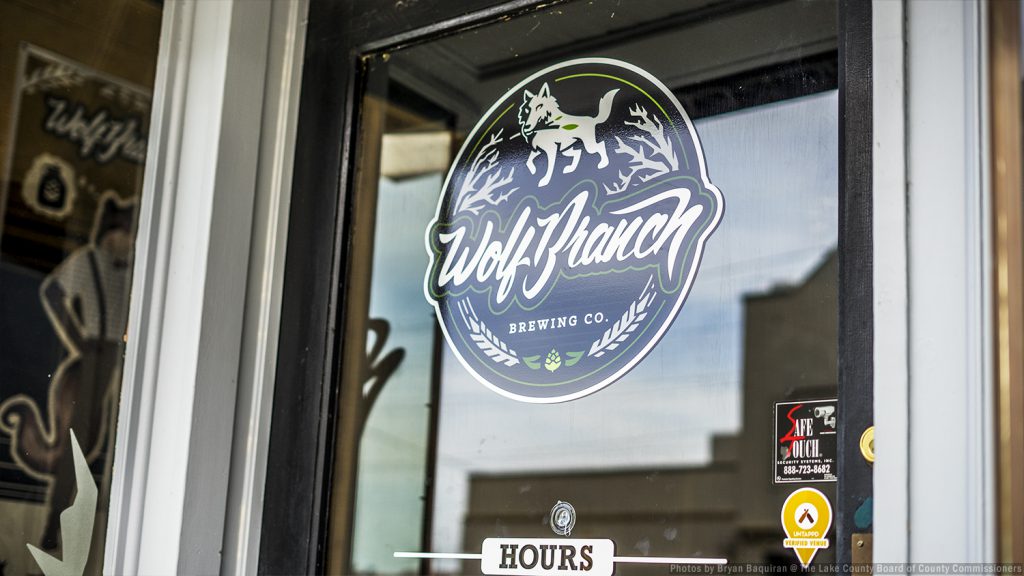 Wolf Branch's flagship beer, Season, is a Belgian-style farmhouse ale brewed with grapefruit in a nod to the citrus-growing history of Lake County. The brewery describes Season as dry and crisp, yet packed with spicy, peppery, and grapefruit zest notes that make for a drinkable beer.
"We use local ingredients like the blueberries at Far Reach Ranch, citrus from Graham's U-pick in Umatilla, peaches from Mike Straughan's grove in Umatilla, strawberries from Oak Haven Farms in Sorrento, and peppers from Over the Hill Farms in Eustis," Jose says.
Far Reach Ranch is a blueberry farm near State Road 19 and County Road 561 in Tavares. Brennan Hamill, part of the family that has owned the farm since the 1940s, says the business partnered with Wolf Branch as a way to interact more with the public.
"A cross-promotion with a brewery seemed like a cool idea," Brennan says. "They said, 'Let's do a blueberry beer,' and I said, 'I'd love to do a beer with you guys, too.'"
The first batch of Blueberry Oatmeal Brown Ale rolled out in November 2018, and the partners are planning to produce a new seasonal blueberry-infused beer every three months, he says. The proposed brew for spring 2019 is Black & Blue Blond, which is black rum with blueberries in a blonde ale.
"I just like Jose and his people over there. They're just awesome," Brennan says. "Right now, I feel like Wolf Branch is my home brewery. We like what they do and we like the environment."
King Grove Organic Farm in Eustis sells organic blueberries to Mount Dora Brewing for a blueberry beer described as "tart and refreshing," and also sells to Central 28 Beer Company in DeBary.
Mount Dora Brewing, also known as Rocking Rabbit Brewery, uses organic ingredients in its craft beers, including Dora Drawdy Drool, a blend of red and blond ales that combines brown sugar and caramel malt; and Rocking Rabbit Red Ale, a sweet beer made of organic grains and orange blossom honey.
The benefit for King Grove is not so much financial as promotional, such as emphasizing "local" in the local economy, say owners Hugh and Lisa Kent.
"We like to support it any way we can," Hugh says. "And they reciprocate by saying their beer is made with organic blueberries in their marketing."
Crescent Lake Brewing, a home-based operation, has produced beers using blueberries and honey from Lake Catherine Blueberries. Both are Clermont businesses, and a partnership appealed to Jamie Lowe, who co-owns the farm with her husband, Dustin.
"We are a local, family-owned business, so we are all about partnering with other local businesses," she says. "Blueberries are a specialty crop, and once they're pulled and packaged, they go to Manhattan, so to keep them local is very nice to see."
Lake Catherine Blueberries also is in discussions for a deal with Clermont Brewing Co., which is expected to open in 2019. Another Clermont brewer, Suncreek Brewery, was poised to start brewing in spring 2019 and was considering local ingredients, general manager John Rink says. In addition, owners of the 24 Tap Room in Leesburg are expanding the existing facility to create another new brewhouse, Mammoth Oak Brewery.
Great Chicago Fire Brewery & Tap Room in Leesburg also uses fresh fruits from local vendors and grains from the Vintner's Choice, a Leesburg supply company, says brewmaster Todd Nystrand. Among his creations are Raspberry Wheat, a light and smooth brew with just the right amount of raspberry flavor, and White Wheat, made with Belgian-style yeast, sweet orange peels, and coriander, an aromatic herb.
As craft breweries flourish, Lake County farms are adding the specialty ingredients to a batch of new tastes for beer lovers.
Local breweries and tap rooms serving craft beers
Brü Tap House
143 E. Main St., Tavares
352.508.9321
Clermont Brewing Co.
750 W. Desoto, Clermont
321.430.BEER (2337)
Great Chicago Fire Brewery & Tap Room
311 W. Magnolia St., Leesburg
352.474.2739
Mermaid Juice
458 N. Highland St., Mount Dora
352.556.1030
Mount Dora Brewing/Rocking Rabbit Brewery
405 S. Highland St., Mount Dora
352.735.1111
Suncreek Brewery
790 W. Minneola Ave., Clermont
407.850.8810
Wolf Branch Brewing Company
119 N. Bay St., Eustis
352.602.4564